The Inter City Firm (ICF) is an English football hooligan firm mainly active in the 1970s, 1980s and early 1990s, associated with West Ham United. The name came from the use of InterCity trains used to travel to away games. The ICF was still active in 2009.
While West Ham hasn't enjoyed enormous success in many years, its hooligan firm is certainly one of the most famous.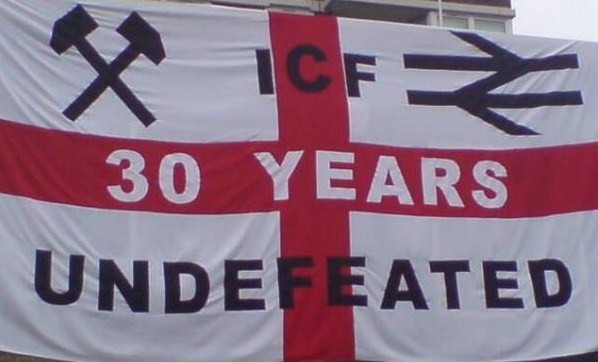 One of the most feared firms of the heights of football violence, the Inter City Firm was famous for leaving a calling card on their victims that read "Congratulations, you have just met the ICF", a phrase which later named a book written by Cass Pennant, the leader of the ICF. Cass Pennant has also had a biographical movie made about his life entitled Cass.
West Hams main rivalry is Millwall FC and their Firm Millwall Bushwhackers.
This is one of the fiercest rivalries in all of football, so infamous that it is depicted in many films, tv series and books, fictional and non-fictional. Some examples are Green Street Hooligans, in which a fictional firm called Green Street Elite battle against a Millwall firm. The GSE firm is based on the infamous Inter City Firm from the 70s and 80s. The name eludes to the street in which West Hams stadium, Boleyn Grounds, is located at. The sequel, Green Street Hooligans 2, is about members of the same fictional firm serving prison sentences.
Massive riots are the rule rather than the norm whenever these two sides meet, even though it has happened rarely lately, with West Ham playing in the Premier League and Millwall in League One and the Championship. The two teams were paired against each other in the League Cup in 2009 however, which marked the first time these teams would meet in four years. This match sparked massive unrest, with several hundred fans battling in the streets outside the stadium. The pitch was invaded by West Ham supporters several times and one Millwall supporter was stabbed and was close to death.
Videos
[cvg-gallery galleryId='1′ mode='showcase' limit='5′ /]